By Using Natural Medicinal Materials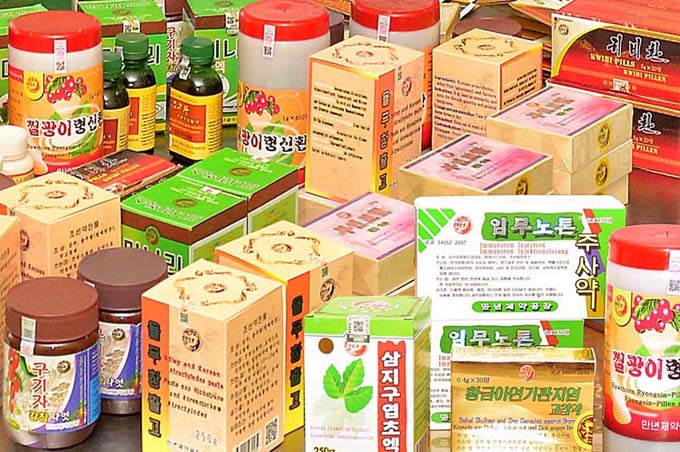 The Mannyon Pharmaceutical Factory produces various kinds of tonics and Koryo medicines. Over 30 kinds of its products including Kyongok-go, Sipjondaebohwan, Ryukmihwan, Chinese matrimony-vine paste, Wonhyongsam in honey, Kaesong Koryo Insam Tonic and Adlay and Korean Atriactylodes Paste have been registered as famous medicines not only at home but also in many foreign countries.
These medicines are made from famous Kaesong Koryo insam and other medicinal plants collected in the pollution-free natural forests in the DPRK.

Equipped with the production lines that have the GMP standard, the factory has ensured full hygienic safety over the past 30 years by giving priority to the state standard and international certification for quality.
What is worthy of particular note is that it has increased the content of Koryo medicinal extracts to over 95 percent by using advanced techniques, thus enhancing the efficacy of the tonics. While producing tonics as its main items, the factory also develops and makes Koryo medicines good for treatment of various cancers and circulatory diseases.

Its several patent products, including vitamin B17 injection made from amygdalin extracted from apricot stones, the Betulin capsules made from triterpenoid extracted from the bark and leaves of white birch and Baikal Skullcap and Zinc Capsules against Bronchitis are popular among their users as they are based on natural Koryo medicinal materials and have high anticancer and antibacterial effects.

Now, the factory is intensifying research work for promoting the quality of the medicinal products and developing new kinds of Koryo medicines.