With High Medical Skills and Devotion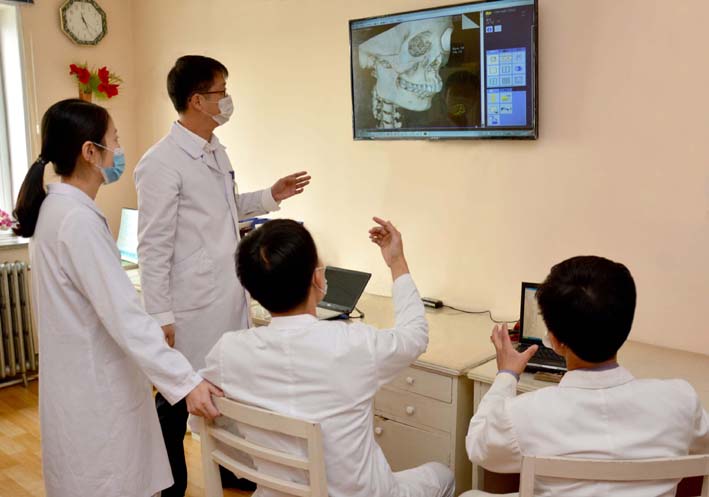 A general dental hospital in the DPRK has gained successes in treating patients by means of joint and bone regenerative and plastic operation using CAD-CAM.

In the past the dentists in this hospital developed and introduced techniques including repair and plastic operation of temporomandibularis and mandibula by computer-aided 3D design and accumulated rich clinical experience. They are now using 3D printer in making artificial joints and bones according to the different symptoms on faces and applying them to the patients.

So Kyong Jong (19 years old) in Neighbourhood Unit No 89 of Kumsong-dong No 3, Mangyongdae District, Pyongyang, who had operation in this hospital, said:

"I had difficulty in saying and eating, for my chin was inclined to one side after the ablation of a facial joint long time ago. Flaws in arms and legs cam be covered with clothes, but the deformation of the face cannot be concealed, so I could not go out of my house. But now I can even sing like others do."

The doctors of the hospital treated Ju Yong Sil, a pupil of Sariwon Primary School for Orphans, of a palate rupture and recovered her original state in April a few years ago. When she left the hospital after medical treatment they gave her daily necessities; they took care of her on a regular basis. The girl said that she regarded them as her kith and kin.

Having been treated of complication of osteomyelitis and other diseases in the hospital two months ago, Pak Jong Sil, an old lady living in Ryongsong-dong No 2, Ryongsong District, Pyongyang, said that she knew from her experience from foreign trips that such a treatment would have cost her dozens of thousands of dollars in other countries, and that she was grateful for the benefit of the free medical care system of the country and medical skills and devotion of the doctors of the hospital.

The doctors of this hospital regard Medical skills plus devotion is the best medicine as their motto.

The hospital is renowned also in the treatment of emergency and serious cases like sepsis, neck abscess, osteomyelitis, and fraction of chin bones.